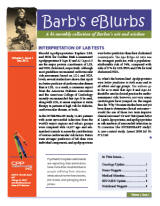 Barb's eBlurbs offers clinical quips, timely tips, and practical pearls—neurology, cardiology, oncology, infectious-disease-ology ;-), women's health, men's health, nutritional nuggets and the ever-popular Medical Minutiae (fascinating facts and humorous anecdotes and stories). You will receive this newsletter every month, and even some quick eBLURBS throughout the month if something pops up that you need to know...all for the low price of $25.00 per year...yes, just $2/month. Such a deal. Ya' interested? Easy to subscribe. All eBLURB subscriptions will start with the January issue. In other words, regardless of when you subscribe during the year, you will receive all back issues from January for your annual subscription. Keeps things simple for me. And, it's all about me. SOOO...sign up now. All you need is cash, check or a Mastercard or Visa...or you can use PayPal if that suits your fancy. The only other requirement is that you have an email address for receiving the monthly blurbs.
Download the index to see what you're missing!
The annual institutional subscription for eBLURBS is $150. This subscription fee gives you permission to distribute it to as many nurses (or all) as you like and use it for various conferences, etc.
If you would like to order by snail mail with CASH, CHECK or CREDIT CARD click here.