CLINICAL FOCUS on PHARMACOLOGY
This DVD series was presented to a group of nurse educators in 2014. It is designed for nurses in all practice settings including Practitioners, Clinicians, Nurse Educators, Public Health and School Nurses, Pharmacists, Nursing Students and other health care providers who need an update on the latest evidence-based pharmacology.
Learn from one of the best teachers in the field to:
Refer to the latest guidelines on medication administration when caring for patients across the life span.

Compare and contrast various classes of pharmacological agents in relation to evidenced-based treatment of common clinical conditions associated laboratory values, interactions with food and alternative therapy with nursing implications.

Relate the appropriate use of antimicrobial and other drug therapy in prevention and treatment of infectious disease.

Describe the latest evidence-based guidelines for various cardiac and respiratory conditions, including assessment, interventions, and implications for safe nursing practice.

Discuss the pros and cons of hormonal therapy with related nursing implications.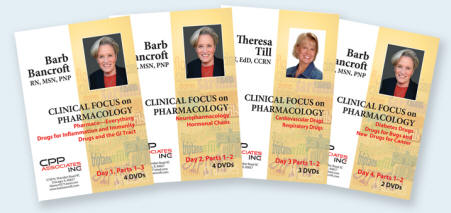 3.5 days of DVDs (13 total)
$350 (USD)/$385 (CDN)
Price on button includes shipping for complete set only
$375 (USD)/$420 (CDN)
Individual DVDs (per day) and/or audio CDs
For individual DVDs shipping will be added after you order
$100 (USD)/$115 (CDN) per DVD for each full-day presentation(s)
$55 (USD) $60 (CDN) for a full-day presentation per audio CDs
$50 (USD)/$55 (CDN) for last half-day presentation
$35 (USD) $40 (CDN) for audio CD last half-day presentation.
Shipping for the entire series is included in price:
$25.00 (USD) to U.S. destinations; $35 (USD) to Canadian destinations)
Shipping for single day purchases to US:
$15. under $250./$25. for $250.–$500./$35. over $500.
Shipping for single day purchases to Canada:
$25. under $250./$35. for $250.–$500./$50. over $500.
Institutional Streaming Rights—for the entire series add $350.00 (USD)/$375 (CDN); individual days add $100 (USD)/$115 (CDN)
Be sure to select w/streaming rights in dropdown menu.
ORDERING FROM CANADA? PLEASE CLICK ON
CANADIAN PRICE IN DROP DOWN MENU.
Want to order from outside the US or Canada? Send an email directly to Barb.
DAY 1
Day 1 Part 1
Pharmaco—Everything (absorption, distribution, metabolism, excretion, genetics, geriatrics)
This 3-hour introduction to Pharmacology covers not only the basics of pharmacokinetics and pharmacodynamics but also the genetic predisposition to drug effects and side effects. Barb discusses the various routes of administration as well as how fast drugs are absorbed based on the route of administration. The major role of the liver in drug metabolism is emphasized including the CYP 450 enzyme system. For example, tamoxifen is metabolized to a more active drug by the enzyme,CYP 2D4; however, if a drug that inhibits CYP 2D4, such as paroxetine (Paxil), is prescribed at the same time, the action of tamoxifen is reduced by 50%. The small intestine also plays a major role in drug metabolism via the action of CYP3A4. Grapefruit inhibits this specific enzyme and drugs are absorbed with a higher bioavailability—and can exhibit toxic side effects. The kidneys excrete 95% of all drugs—a reduction in the glomerular filtration rate requires dosage reductions in most drugs. Geriatric patients are most prone to a reduction in the glomerular filtration rate and thus requires a reduction in dose. What's the difference between Wellbutrin, Wellbutrin XL, and Wellbutrin SR? This session includes a plethora of clinical pearls that will have you saying..."Wow! I didn't know that!" (Disk 1: 1 hour 55 minutes, Disk 2: 56 minutes)
Day 1, Part 2
Drugs for Inflammation and Immunity
A discussion of the inflammatory response—drugs that trigger neutropenia, drugs the stimulate neutrophil production (colony stimulating factors—Neupogen/Neulasta); drugs that inhibit neutrophil function including corticosteroids; drugs that inhibit various function of the immune system- methotrexate, hydroxychlorine/Plaquenil, tacrolimus/Prograf, etanercept/Enbrel, azathioprine/Imuran, etc....anti-pyretics time to reduce fever; discussion of various NSAIDS—properties and doses; immunoglobulins, drugs to reduce allergic symptoms—oral antihistamines, nasal antihistamines/nasal steroids, anti- leukotrienes, anti-IgE monoclonal antibodies. (1 hour 4 minutes)
Day 1, Part 3
Drugs and the GI Tract
GERD drugs—proton pump inhibitors (the "prazoles"—mechanism of action, side effects including B12 deficiency, iron deficiency anemia, risk of foodborne illnesses); the H2 blockers (the "tidines"—why are they best taken before bedtime?); a dopamine inhibitor in the GI tract (metaclopramide/Reglan/Maxeran) for GERD and gastroparesis; Drugs for irritable bowel syndrome (both IBS-C and IBS-D); Drugs for Inflammatory Bowel Disease—corticosteroids, methotrexate, TNF-alpha inhibitors including infliximab/Remicade, adalimumab/Humira and the aminosalicylates—sulfasalazines, mesalmines, cyclosporine; Drugs for diarrhea; Drugs for constipation (laxatives—osmotic, bulk-forming, stimulants, stool softeners) and the chloride-channel activators including the newly approved linoclotide/Linzess). (52 minutes)
Day 1 includes parts 1–3
(DVD $100 (USD)/$115 (CDN); CD $55 (USD)/$60 (CDN)
ORDERING FROM CANADA? PLEASE CLICK ON
CANADIAN PRICE IN DROP DOWN MENU.
DAY 2
Day 2, Part 1
Neuropharmacology
Historical Highlights—the use of plants as anti-depressants, anxiolytics, hypnotics, and hallucinogens— KAVA, Valerian, St. John's Wort, Peyote, poppy seeds, hemp, and magic mushrooms; Neurotransmitters and their functions—acetylcholine, norepinephrine, serotonin, glutamate, GABA, and dopamine—Too much? Too little? Drugs to treat Parkinson's disease and Restless Leg Syndrome, Tardive dyskinesia, depression, ADHD, psychosis, dementia, acute migraine headaches, sleep, anxiety, and alcohol withdrawal; SSRIs and other classes of antidepressants, typical and atypical antipsychotics, anticonvulsants, benzodiazepines, botox, medical marijuana, lithium, cholinesterase inhibitors. (Disk 1: 1 hour 55 minutes, Disk 2: 55 minutes)
Day 2, Part 2
Hormonal Chaos
The functions of estrogen; understanding the hypothalamic- pituitary-ovarian axis; drugs that mimic the functions of GnRH–Leuprolide(Lupron, Eligard) etc; Hormone Replacement Therapy—for who, when, & how long—current evidence-based medicine; combined oral contraceptives—risks and benefits in pre- and peri-menopausal women; St. John's Wort and oral contraceptives; a note on bio-identical hormones; SERMS including tamoxifen, etc; androgen:anabolic steroids for low T; androgen deprivation therapy for prostate cancer; erythropoietin stimulating agents for legal and illegal uses; the bisphosphonates for osteoporosis. (1 hour 47 minutes)
Day 2 includes parts 1–2
(DVD $100 (USD)/$115 (CDN); CD $55 (USD)/$60 (CDN)
ORDERING FROM CANADA? PLEASE CLICK ON
CANADIAN PRICE IN DROP DOWN MENU.
DAY 3
Day 3, Part 1
Cardiovascular Drugs
This workshop simplifies the maze of information related to cardiac medications. Develop a clear understanding how the various classes of cardiac medications differ. What do you need to know about the new cardiac medications (Brilinta, Xarelto, Pradaxa, Eliquis, Livalo)? Review the relationship between Vitamin D deficiency and muscle pain from lipid lowering drugs. We will cover herbal remedies that interfere with the action of several cardiac medications. (Disk 1: 1 hour 56 minutes, Disk 2: 1 hour 4 minutes)
Day 3, Part 2
Respiratory Drugs
Come to this session and inhale current concepts about the most common respiratory medications. Do you have a clear understanding of the various classifications of respiratory medications? Do you know the difference between a DPI and MDI? Which respiratory medications require oral rinsing after each use to prevent infection? Are you comfortable using capnography to minimize respiratory complications? Do you know how to teach your patients simple techniques in energy conservation in order to maximize the efficacy of their respiratory medications? Strategies will be demonstrated and participants will have time to practice. (1 hour 15 munutes)
Day 3 includes parts 1–2
(DVD $100 (USD)/$115 (CDN); CD $55 (USD)/$60 (CDN)
ORDERING FROM CANADA? PLEASE CLICK ON
CANADIAN PRICE IN DROP DOWN MENU.
DAY 4
Day 4, Part 1
Diabetes Drugs
Definitions of various types of diabetes—Type 1A, Type 1B, and Type 2. Hemoglobin A1C targets for oral drugs and insulin therapies; Metformin, and sulfonylureas, the gliptins, the incretin mimetics (liraglutide/Victoza) the "glitazone", the "flozins", rapid-acting insulins vs. daily basal insulins (insulin glargine/Lantus; insulin detemir/Levemir), newly approved inhaled insulin (Afrezza); other drugs used in diabetics—statins as anti-inflammatory drugs and cholesterol-lowering drugs; the ACE inhibitors for nephroprotection; bariatric surgery as a "cure" for type 2 diabetes. (1 hour 18 munutes)
Day 4, Part 2
Drugs for Bugs and New Drugs for Cancer
Anti-infective drugs for bugs—the plethora of antibiotic classes will be listed and their various targets will be described—gram negative, gram positive; anti-viral drugs, anti-herpetic drugs (the 'cyclovirs'), anti-fungal drugs (the 'conazoles' and others) will be discussed, as will vaccines. Anti-retroviral drugs for HIV and for HCV will also be discussed. Targeted drug therapy has finally arrived for numerous malignancies—the monoclonal antibodies (the 'mabs') have revolutionized the treatment of cancer as have the 'nibs', the oral tyrosine kinase inhibitors. (1 hour 55 munutes)
Day 4 includes parts 1–2
(DVD $50 (USD)/$55 (CDN); CD $35 (USD)/$40 (CDN)